Description
S13-MRL Series Three-dimensional Wound Core
PRODUCT DESCRIPTION
The three-dimensional wound core transformer is an energy-saving power transformer, which is a three-dimensionally arranged iron core composed of three winding cores with the same geometric size and a single frame, it is with three-dimensional wound core as magnetic circuit. The three-dimensional wound core transformer creatively reforms the laminated magnetic circuit structure and three-phase layout of the traditional power transformer to optimize the performance of the product. Such as the three-phase magnetic circuit is completely symmetrical, the power saving effect is significant, the noise is greatly reduced, the heat dissipation and overload capacity are stronger, the structure is compact and the volume is small, etc
Product standard:  IEC60076 & GB1094 and GB/T6451
Environmental conditions of S13-M Type Distribution Transformer
Type:Outdoor
Normal Service Conditions:
1 The height above the sea level is below 4000m;
2. Ambient temperature: Highest air temperature+40 ℃, Lowest air temperature-25℃
3. Relative air humidity:≤80%(+25℃)
4. installation site: no corrosion gas, No obvious dirt
For Agricultural power distribution and lighting
Performance parameters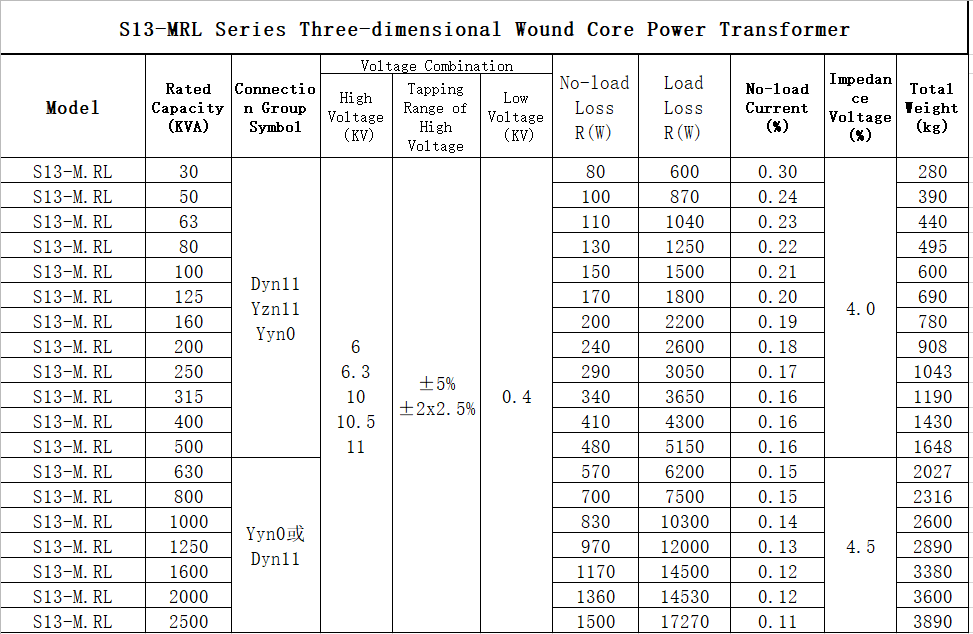 PRODUCT FEATURES
1 Good Economical Performance: The no-load loss for S13 series products decreased by 10.3% averagely and the no-load current decreased by 25% than S11 series.
2 Long Service Life: Transformer tank adopts hermetical structure. The covers between tanks can be connected by bolts and welded firmly. the transformer oil won't contact with air, so that extend the service life effectively.
3 High Operation Reliability: Improve the relevant sealing parts for the tank, increase the reliability and advance the technical level to ensure the reliability of the seal.
4 Small Installation Area: S13-M series transformer tank uses the corrugated plate radiator. When the oil temperature changes, the corrugated plate will proceed thermal expansion, which can replace the role of the oil conservator. the corrugated plate tank has beautiful appearance, less occupied area.
5 Low Noise: The Oil immersed distribution transformer core is stacked by imported high-quality cold-rolled silicon steel sheet, which reduces no-load current greatly, and makes the core bound to ensure compactness of the core and reduce noise.